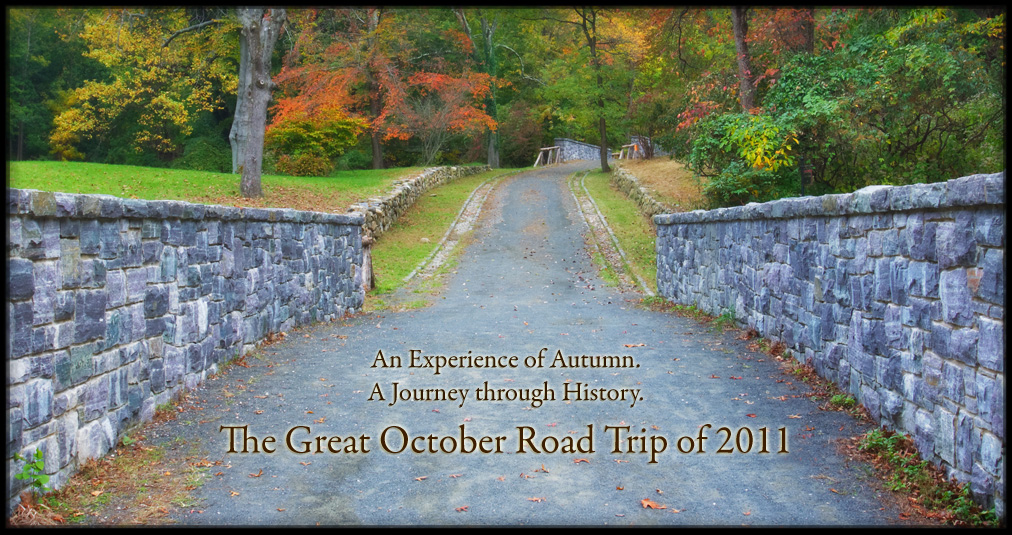 This complex road trip was primarily inspired by a desire to visit the historic Hudson River Valley of New York, with a special interest in the village of Sleepy Hollow, which became famous in the 19th Century through the writing of Washington Irving. But since the drive between New York and my home in Tennessee was quite long, I began to look for ways to break the trip into shorter segments, with interesting destinations at each stop along a huge loop of more than 2,000 miles.
Below, you'll find a map of the trip, followed by a list of my destinations. Should you wish to cycle through the entire trip in sequential order, links on each page allow you to go directly from one destination to the next - you can follow my progress, step-by-step, through two weeks of travel. Or, if you prefer, you can jump further down this page to search for individual sites organized in four categories of interest: American History; Famous Houses; American Folklore; and Autumn Scenery.
This was an amazing experience that I would recommend to anyone. I hope you'll be inspired to visit some of the same places and to explore America's historical heritage for yourself.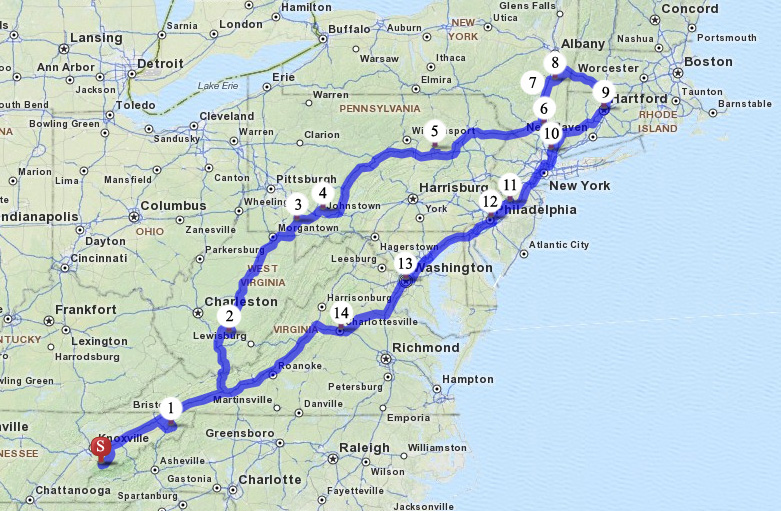 Chronological Index
Start/Stop: The Red "S" marks my home in Townsend, Tennessee.
#01 - Elizabethton, Tennessee:
Sycamore Shoals State Historic Park
#02 - Clifftop, West Virginia:
The Glade Creek Gristmill, Babcock State Park
#03 - Pennsylvania:
Frank Lloyd Wright's "Fallingwater"
Fort Necessity National Battlefield
#04 - Pennsylvania:
The Flight 93 Memorial
#05 - Pennsylvania:
Ricketts Glen State Park
#06 - Newburgh, New York:
George Washington's Headquarters
#07 - Palenville, New York:
The Catskill Mountains / Kaaterskill Falls / Rip Van Winkle
#08 - Hudson, New York:
Frederic Edwin Church's "Olana"
#09 - Hartford, Connecticut:
The Mark Twain House
#10 - Sleepy Hollow, New York:
The Village of Sleepy Hollow
Washington Irving's "Sunnyside"
The Gothic Revival Mansion "Lyndhurst"
The Battle of White Plains: Washington's Headquarters / Revolutionary War Reenactors

#11 - Trenton, New Jersey:
Washington's Crossing of the Delaware River / The Trenton Battle Monument
#12 - Philadelphia, Pennsylvania:
Independence National Park / The Liberty Bell
#13 - Alexandria, Virginia:
George Washington's "Mount Vernon"
#14 - Charlottesville, Virginia:
James Madison's "Montpelior"
Thomas Jefferson's "Monticello"

- Destinations organized by Subject of Interest -
Sycamore Shoals State Historic Park - Elizabethton, Tennessee (#1)
Fort Necessity National Battlefield - Pennsylvania (#3)
Flight 93 Memorial - Pennsylvania (#4)
Washington's Headquarters - Newburgh, New York (#6)
The Battle of White Plains - White Plains, New York (#10)
Washington's Crossing of the Delaware and the Trenton Battle Monument - New Jersey (#11)
The Liberty Bell - Philadelphia, Pennsylvania (#12)
Frank Lloyd Wright's "Fallingwater" - Mill Run, Pennsylvania (#3)
Frederic Church's "Olana" - Hudson, New York (#8)
The Mark Twain House - Hartford, Connecticut (#9)
Washington Irving's "Sunnyside" - Irvington, New York (#10)
"Lyndhurst" - Tarrytown, New York (#10)
George Washington's "Mount Vernon" - Alexandria, Virginia (#13)
James Madison's "Montpelier" - Orange, Virginia (#14)
Thomas Jefferson's "Monticello" - Charlottesville, Virginia (#14)
"The Legend of Sleepy Hollow" - Sleepy Hollow, New York (#10)
"Rip Van Winkle" - The Catskill Mountains, New York (#7)
Babcock State Park, West Virginia (#2)
Rickett's Glen, Pennsylvania (#5)
Kaaterskill Falls - Catskill Mountains, New York (#7)